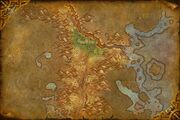 The Southern Barrens is a

neutral zone for level 30-35 Horde and Alliance players. It focuses on the Alliance vs. Horde conflict, with each faction's quests giving a different view of the events that play out.
The Southern Barrens quests lead to the Dustwallow Marsh storyline; Feralas and Western Plaguelands are same-level alternatives.
Alliance
Northwatch Hold
Teegan's Expedition
Forward Command
Fort Triumph
 [10-30] 

Meet Me at Triumph

(from Forward Command)

 [10-30] 

Working the Bugs Out

 [10-30] 

Firestone Point

(breadcrumb to Firestone Point)

 [10-30] 

Pick-a-Part

 [10-30] 

Powder Play

 [10-30] 

Batteries Not Yet Included

 [10-30] 

Report to Twinbraid

(breadcrumb to Bael Modan)
Bael Modan
Neutral
The Overgrowth
Firestone Point
 [10-30] 

Firestone Point

(from Fort Triumph) or  [10-30] 

Firestone Point

(from Desolation Hold)

 [10-30] 

A Growing Threat

 [10-30] 

Mangletooth

 [10-30] 

Blood of the Barrens

 [10-30] 

Echoes of Agamaggan
Horde
Hunter's Hill
Camp Una'fe
Vendetta Point
Desolation Hold
Bael Modan