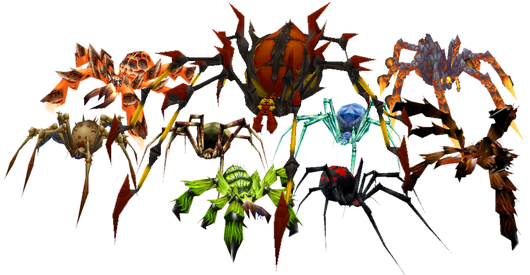 Spiders are a type of animal found commonly throughout Azeroth and Draenor, and even other planes of existence such as the Firelands and the Shadowlands. The most common of the arachnid family, these critters spin their webs in nearly every corner of Azeroth.[1] Commonly enhanced by corruptive magic, like the fel magic of the Burning Legion, or the necromancy of the Scourge or the Forsaken, they are also seen as plain wild animals. Spiders can be expected to use poisonous attacks and webbing in combat, often from a distance. One species of spider has entirely lost their carnivorous appetites, and instead feed on plants and fruit.[2]
Traits in World of Warcraft
Spiders are usually classified as Beasts, with a few Bone Spiders classified as Undead.
With a few exceptions, spiders cannot be skinned.
Usually drop webbing, spider legs, spinnerets, mandibles (or fangs), or spider meat as loot.
History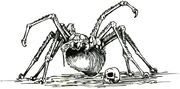 First war

This section concerns content related to Warcraft: Orcs & Humans.
During the First War, orc warlocks were adept at summoning these creatures to fight for the Old Horde.
Human description
Orc description
Spiders and corruption

This section concerns content related to Warcraft III: Reign of Chaos or its expansion The Frozen Throne.
During the Third War, the emergence of massive spiders in the Barrow Dens beneath Ashenvale Forest was one of the first signs of demonic corruption seeping into the land.
The Scourge
The Scourge has a strong connection with spiders. Large spiders can be found in any area affected by the undead plague, Bone spiders are found serving the scourge and Naxxramas has an entire wing devoted to spiders and spider-like creatures.
The Forsaken

This section concerns content related to Cataclysm.
Recently, the Forsaken have developed something of a kinship with spiders. The Forsaken tend to them in the fields of Hillsbrad Foothills, allowing them to latch their eggs onto a suitable carrier - usually some variation of bear, until the little spiders are of age to be collected from their host. The spiders are used as sentries, pets and companions among the Forsaken empire. Dark rangers can be seen alongside domesticated spiders around the Ruins of Southshore.
Models
There are eight models for spiders in World of Warcraft:
One with thin, spindly legs, referred to as Venom (or Mine) Spider.
One with a hairy, tarantula-like body, referred to as Tarantula (model also used for lava spiders).
One with sharp barbs that was first introduced in the original Naxxramas, referred to as Giant Spider.
One with a bone-like structure that was introduced with Wrath of the Lich King, referred to as Bone Spider.
One with a fiery rock-like structure that was introduced with Cataclysm, referred to as Fire Spider.
Two introduced with Legion for spider demon and nightmare spider NPCs whose models are similar.
One used for the Bloodfang Widow mount introduced with Legion.
Within those different models, several skins are used to show different species, which include, but not limited to the list of species below.
Known species
In Warcraft III

This section concerns content related to Warcraft III: Reign of Chaos or its expansion The Frozen Throne.

Spiders in Warcraft III were a type of hostile creep, who could be found in a number of different tilesets.
RPG species

This section contains information from the Warcraft RPG which is considered non-canon.
Named uncategorized
For named spiders of specific types, see the individual articles.
As a mount
As a hunter pet
Spiders can root enemies with place with their skill,

[

Web

]

, making them of special interest to some hunters. The spindly spider model, found both on Bloodmyst Isle and in Outland, makes a high-pitched screeching noise when it attacks, causing some hunters to use it to "creep out" other players.
Patch changes

Patch 6.0.2 (2014-10-14):

[Web] replaced with

[Web Spray].


Patch 3.0.2 (2008-10-14): Major changes:
As a companion pet
Wild battle pets
Much like moths, spiders are one of the more common types of wild battle pets found around the world.
Gallery
See also
References
External links
Creature group
Beast creatures

 

Arthropod

Arachnid
Crustacean
Insect

 

Mammal

Carnivoran
Ungulate

Bovids
Camelids
Cetaceans
Proboscids
Swine
Creature group
Critter creatures

Amphibian
Arachnid
Bird
Crustacean
Fish
Insect
Mammal
Reptile
Other
 

Basic
Special

Acid Bite

Chi-Ji's Tranquility

Defense Matrix

Dragon's Guile

Feather Flurry

Fleethoof

Furious Bite

Grievous Bite

Infected Bite

Nether Energy

Niuzao's Fortitude

Obsidian Skin

Scale Shield

Spirit Pulse

Toxic Sting

Winged Agility

Exotic

Calcified Carapace

Dune Strider

Shimmering Scale

Bonus
Specialization