Not to be confused with

[

Spirit Link

]

 or Spirit Link Totem (NPC).
Spirit Link Totem

Level 62 Restoration shaman ability
40 yd range
11% of base mana
3 min cooldown
Summons a totem at the target location for 6 sec, which reduces damage taken by all party and raid members within 10 yards by 10%. Every 1 sec the health of all affected players is redistributed, such that all players are at the same percentage of maximum health.

Usable by
Class
Shaman
Properties
School
Nature
Cooldown
3 minutes
Other information
Level learned
62
Related buff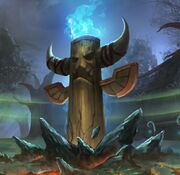 Spirit Link Totem is a level 62 Restoration shaman ability.
Patches and hotfixes
External links
Earth
Fire
Air
Others
Removed