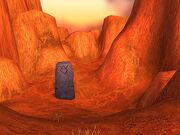 Spirit Rock is a place sacred to the shaman of the Horde. It is located in the hills high above the Valley of Trials in Durotar, and is accessible from the Hidden Path leading up to it.
Aspiring shaman used to drink a sapta near the rock in order to commune with the earth.
Notes
This area used to be the site of the Shaman class quests


 [4] Call of Earth and


 [4] Call of Earth.
External links