The subject of this article or section was part of the Spirit of Competition
event, a
world event
to celebrate the 2008 Beijing Olympics.
Spirit of Competition was an event that occurred from August 8–24, 2008 (coinciding with the 2008 Summer Olympics in Beijing, China).
Official description
"Every two years, the Spirits of Competition grow especially fervent, and draw close to the mortal realm. During such times, members of both the Alliance and Horde can honor the spirits and earn Competitor's Tabards by seeking to defeat one another in the battlegrounds. For victory in competition, they can also earn the spirits' favor in the form of a prized gold medal - and the special pet it summons."[1]
Rewards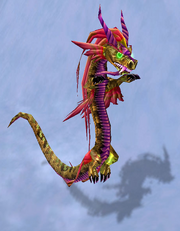 [

Competitor's Tabard

]

- mailed to all participants in any battleground, both winning and losing. You MUST have stayed for the full duration of the battleground.
 

[

Gold Medallion

]

- containing the Spirit of Competition companion (small red and yellow Asian-style dragon). Every time you win any battleground, you had a chance this pet is mailed to you. (It was stated to be a 50% chance each time you win, but this appears to be incorrect. What fits the observed win comments was that it was automatically 'rolled for' among the winning team characters. Also stated "The battleground you play doesn't matter", it appears it did matter, smaller battle grounds (Warsong Gulch) gave better odds of obtaining this pet.)
 

[

Competitor's Souvenir

]

- containing the 'Essence of Competition' companion (small blue and purple Asian dragon), available only on servers in China.
Notes
The mention of "every two years" in the description created an anticipation that it would occur during the years of both the Summer and Winter Olympics. However no corresponding Spirit of Competition event appeared during the 2010 Winter Olympics. Upon questioning, Blizzard employee Malkorix revealed that it would only happen in the summer, regardless of when the Olympics occurred. Despite this, the event was not brought back for either the 2012 [2] or 2016 Summer Olympics.
See also
References
^ Spirit of Competition. Archived from the original on 2008-08-31. Retrieved on 2016-10-04.
^ Zarhym on Twitter (2012-07-26). Retrieved on 2016-10-04.​ "There's no Spirit of Competition reward this year. The expansion's kept us busy and contains MANY pets (handle them)."
External links
World of Warcraft Community Site
 The Spirit of Competition
Frequent
Weekly
Monthly
Micro
Annual
One-time
Removed