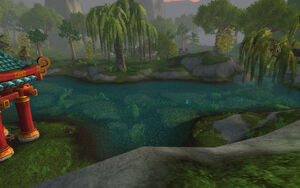 Spiritsong Lake can be found just east of Honeydew Village in north-central Jade Forest. Along its eastern edge is what appears to be a small shrine. Turtles inhabit its waters and shores, and spirits similar in appearance to the ancient spirit, Shu, float along the surface.
Inhabitants
Quest givers
Mobs
Trivia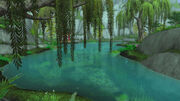 During the beta, this area was known as Ethereal Lake.
Patch changes
Sources
A portion or version of this article was merged from

 WoWWiki. See list of authors.