Squishy Purple Goo
Use: Teaches you how to summon a Void Jelly.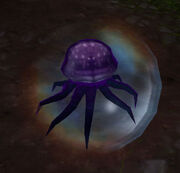 Squishy Purple Goo drops from Soggoth the Slitherer, located in the Darkshore Warfront zone. It is not a guaranteed drop, but is cageable and can be bought and sold on the Auction House.
Pet Journal
This Jelly has seen better days. Now it sees through fifty different eyes.
Battles
Patch changes
External links
Battle pet types
Aquatic battle pets

Ambystan Darter

Ambystan Snapper

Archetype of Metamorphosis

Archetype of Renewal

Archetype of Serenity

Aurelid Floate

Brightscale Hatchling

Bufonid Croaker

E'rnee

Prototickles

Silvershell Snapper

Terror Jelly

Venomous Bufonid