Standard of Niuzao
Standard of Niuzao
Use: Carefully crate the restored artifact.
"Artifact details have already been logged in your Archaeology Journal, under the Completed Artifacts tab."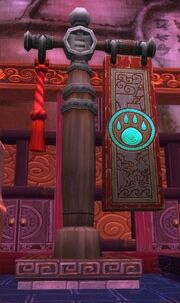 The Standard of Niuzao is a common pandaren archaeology artifact, created from 50x

[Pandaren Archaeology Fragment]. Up to one
 [Pandaren Pottery Shard] may be used to solve this artifact. A pristine version can also be crafted.
Description
A spool of thick canvas that, when held aloft, unfurls to reveal a proud emblem of the Pandaren Empire. Heavy iron rings dangle from long ribbons of leather affixed along the bottom, pulling the banner taut. Stitched into each strip of leather is a reminder for the standard-bearer: "Fear seeks to diminish you. / Instead, let it reveal you."
Patch changes
External links