Starting area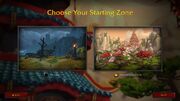 Starting areas are where new characters begin their life in World of Warcraft, based on their selection of race or hero class.
Shadowlands introduced a new starting zone available for characters that aren't allied races, death knights and demon hunters, Exile's Reach with a mini-dungeon.
Unlike other classes hero classes begin at a high level in their own special starting areas. Death knights starting off in The Ebon Hold in an instance version of the Eastern Plaguelands or for allied races and panderen at the Frozen Throne. Demon hunters begin in their own special starting experience.
Allied races need to be unlocked and start at level 10 in their own starting areas
Veteran players can start by choosing Exile's Reach or their old starting zone prior to Shadowlands. Players are more or less free to travel wherever they want from these starting location, but it is generally recommended that one complete the character- and race-specific quests in and around the character's starting locations. Worgen, goblins and pandaren start in instanced zones, and do not necessarily follow the same starting area layout patterns as the other races.
Characters who start with a Class Trial or Character Boost start in their own area.
Notes
Portals for the allied race starting areas can be found in front of the Stormwind Embassy or Orgrimmar Embassy, only visible to the specific allied race.
All starting areas have one small village, outpost, or town with trainers for all classes and are available to the race(s) that controls the area. There are no profession trainers or inns in starting areas; however, when a starting player first uses their  

[

Hearthstone

]

, they are teleported back to the main settlement in the area. Once the player changes where their hearthstone is set, they cannot change it back to the starting area.
All starting areas are protected by Elite guards 5 levels above the current level cap, though quest givers in starting areas are not flagged for PvP and may not be killed by enemy players, even on PvP servers. This is in order to prevent enemy players from killing beginning quest givers and preventing new characters from playing the game. New player characters may still be killed, however, but the extremely powerful guards make sure the enemies do not stay long.
Starting areas often contain a substantial amount of lore, and involve numerous storylines during which characters may find their place in the world and among their people. Each class' early quests also tend to define a character's role and the nature of the class.
Patch changes
Patch 8.2.5 (2019-09-24):
Patch 7.3.5 (2018-01-16): Starting zones that had a level range of 1 - 10 now scale from level 1 - 20.

Patch 6.0.2 (2014-10-14): Classic starting areas (levels 1 - 10) received a number of improvements to the tutorial, quests, and mob tuning to provide a smoother starting experience.