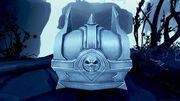 Stolen Korthian Supplies drops from rare monsters in The Rift of Korthia, including the Screaming Shade. Players must reach Tier 4 (honored) with the Archivists' Codex to purchase and use a

 [Repaired Riftkey] on Rift Portals in Korthia. The crate of supplies can also be found in Riftbound Caches.
Objectives
Deliver Stolen Korthian Supplies to Duchess Mynx in Keeper's Respite.
Description
<These supplies are marked with the seal of the Death's Advance, stolen from the Rift without being noticed.
Duchess Mynx in Keeper's Respite would be very grateful to have this returned.>
Rewards
You will receive:
Completion
<Duchess Mynx looks at you incredulously.>
You found these WHERE?!
Well, how am I supposed to stop thieves I cannot even see? Cowardly shades!
Patch changes
External links