Stone Manacles
Use: Carefully crate the restored artifact.
"Artifact details have already been logged in your Archaeology Journal, under the Completed Artifacts tab."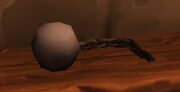 Stone Manacles is a common ogre archaeology artifact, created from 55 Ogre Archaeology Fragments. One
 [Ogre Missive] may be used to solve this artifact.
Description
Rather than using clasps and locks, Ogres bind their slaves using unbroken stone circlets. Their centuries of manipulating earth elements lets them simply shrink the manacles tightly around the slave's ankles, wrists, or neck.
Patch changes
External links