For naval mission, see The Stonefury Cliffs.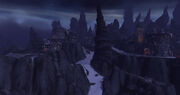 The Stonefury Cliffs are located in the northern part of Frostfire Ridge. They face the Colossal Depths sea. They are the home of the Bloodmaul clan of ogre. The Bloodmaul Slag Mines, the Bloodmaul Stronghold and a number of other related locations are found here.
The area is heavily populated by both ogre and ogron of the Bloodmaul clan, as well as their slaves.
Patch changes
External links