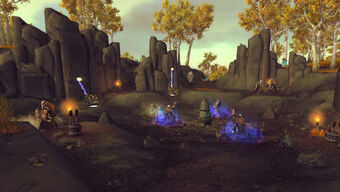 Stonewarden Quarry is an excavation site located deep within the Runewood of eastern Stormheim. The location belongs to the cult of vrykul mystics known as the Bonespeakers, and appears to be an integral part of their rune-making rituals. The site is also occupied by a number of elementals fashioned by the Bonespeakers to guard it.
Inhabitants
Named
Unnamed
Objects
Runestone

Empowered Runestones
Notes
Materials from Stonewarden Quarry may have been used in the construction of the Bonespeakers' nearby ritual complex of Haustvald.