Storm's Fury Wreckage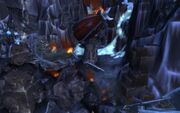 Storm's Fury Wreckage is a crashed Horde gunship located in the middle shelf of Deepholm, southeast of Temple of Earth. The earth elementals are slowly clearing out the wreckage.
The gunship was captained by Captain Skullshatter and carried a fragment of the World Pillar towards the Temple of Earth. As they were approaching the temple, they were shot down.
Patch changes
External links
Silvermarsh
Storm's Fury Wreckage