Stormwind Tabard
Not to be confused with  

[

Stormwind Tabard

]

 or  

[

Tabard of Stormwind

]

.
Stormwind Tabard
Equip: You champion the cause of Stormwind. All reputation gains while in dungeons will be applied to your standing with them.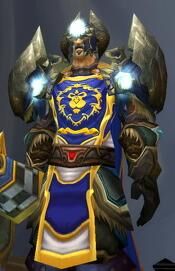 This tabard can be purchased for 10
from

 Captain Lancy Revshon <Stormwind Quartermaster> in the Trade District of Stormwind City at friendly reputation with Stormwind. It can also still be purchased from

 Corporal Arthur Flew <Stormwind Quartermaster>, but the 50

cost and the

 Champion of Stormwind requirement make him obsolete as a source for this tabard.
Patch changes
Patch 7.0.3 (2016-07-19): Now uncommon up from common.

Patch 4.0.1 (2010-10-12): Can now be purchased for 10 in Stormwind without  

Champion of Stormwind

.

Patch 3.1.0 (2009-04-14): Added.

External links