For the Alliance version of this quest, see  [10-60] 

Our New Friends

.
| | |
| --- | --- |
| | The subject of this article or section is part of Children's Week, a seasonal event that lasts one week. Once the event has run its course, this will no longer be available until next year, but there are no guarantees. |
This quest is part of the Children's Week quests where you escort the orcish orphan Grunth.
All of

 [10-60] Ridin' the Rocketway,

 [10-60] The Fallen Chieftain, and

 [10-60] Strong New Allies must be completed to progress to the next pair of quests.
Objectives
Take your Orcish Orphan to the Orgrimmar Embassy. If your orphan is not present when you arrive, call for him..
Description
I heard some adventurers saying that there are new members of the Horde, unlike all the rest! And the best part? They're right here in Orgrimmar! I don't know where the embassy is... but I bet you do! Can you take me? I heard there are orcs from another planet!
Rewards
You will receive:
Progress
New friends in Orgrimmar! That means I can come back and visit them all the time.
Completion
Our new friends are so cool! I can't wait to come back and visit all the time.
Notes
Simply head to the Orgrimmar Embassy.[39.38, 79.24]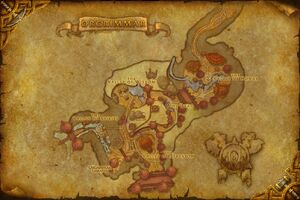 Orcish Orphan says: Wow, <name>! Do you know all these people?
Orcish Orphan yells: Throm-ka, new friends! May you find glory in battle against our enemies!
Orcish Orphan says: One day, I will join them in battle! Until then, maybe I could come and train with the Mag'har?
Progression
 [10-60] 

Children's Week

Complete all of:
Complete both:
 [10-60] 

A Warden of the Horde
Patch changes
External links