Subjugate Demon

Subjugate Demon
Level 21 warlock ability
30 yd range
2% of base mana
3 sec cast
Subjugates the target demon up to level (player level + 1), forcing it to do your bidding for 5 min.

Usable by
Class
Warlock
Properties
School
Shadow
Cooldown
None/Global Cooldown
Other information
Level learned
21
Related debuff
Subjugate Demon is a level 21 warlock spell which allows the caster to temporarily gain control of a demon type creature. The spell can be used to control various mobs. Only one demon can be controlled at any one time.
Tips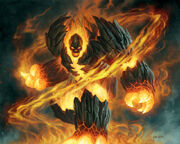 A helpful way to protect from a resistant and a very angry demon is to use the voidwalker's Sacrifice, since you will lose your Voidwalker anyway after casting the spell.
The demon can be released by right clicking on its character portrait and clicking "Dismiss". Please note this just frees it: it does not 'de-summon' it like your regular minions. You will still have to fight it.
In instance situations, it's considered good etiquette to release your subjugated demon between fights, warning your party first of course. This will prevent it from freeing itself during the next fight and becoming an add.
Like

[Mind Control], subjugating generates a large amount of aggro towards the caster. It's a good idea to set your new minion to Passive and put some distance between you and it if you're going to manually release it.
A good way to get rid of an subjugated demon is to order it to stay and run away. The demon will be dismissed but you will be far enough from it for it to simply despawn without attacking you. Another way is to dismiss it, banish it, and then run away.
Patch changes
See also
External links