Sudden Death

Sudden Death
Level 15 warrior talent

Passive

Your damaging melee abilities have a chance to make your next Execute cost no Rage, be usable on any target regardless of their health, and deal damage as if you spent 40 Rage.

Usable by
Class
Warrior
Other information
Level available
15
Affects

[

Execute

]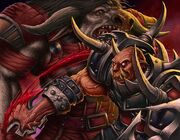 Death comes quickly to the unprepared.
Sudden Death is a level 15 Arms warrior talent.
Patch changes
See also
External links