The subject of this article was removed from World of Warcraft in patch 6.0.2.

This includes items and quests that can no longer be obtained or are now deprecated.
The in-game information in this article is kept purely for historical purposes.
Fury shatters what forges build.[1]
Sunder Armor is one of the warrior's basic threat generation abilities. It is an instant attack that decreases your opponent's armor by 4% per stack. Sundering generates a high amount of threat, making it especially useful for tanking. Not only will it help you keep your opponent focused on you instead of your teammates, it will also increase the amount of damage you and your party members deal.
For Protection warriors,

[Devastate] replaces Sunder Armor at level 26.
Improvements
Major Glyph
Use: Permanently teaches you this glyph.

Reduces the cost of Sunder Armor by 100%.
Classes: Warrior
Requires Level 25
Notes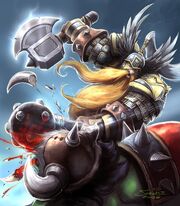 Threat is still generated by using this ability when there are already 3 Weakened Armor stacked on the target.
Tips and tactics
As well as the obvious, and significant, armor reduction effect, Sunder Armor is a powerful tool for establishing and holding aggro as a main tank. It causes a solid amount of threat, and is not situational, like

[

Revenge

]

, and has no extended cooldown, like

[

Shield Slam

]

, so can be used over and over repeatedly as long as there is enough Rage. (Main Tanks usually have plenty of rage, due to the massive beatings they get.) However, Sunder Armor remains a less efficient (per rage used) way of generating threat than Shield Slam or Revenge.
The threat effect of Sunder Armor continues to occur even after the third stacked Weakened Armor debuff, so a tank can continue to reapply it after three sunders have stacked – it will still generate the same amount of threat, but will not stack past three debuffs. Reapplying Weakened Armor on a mob with a full stack of Weakened Armor will however reset the expiration timer for the Weakened Armor debuff stack.
See also
Patch changes
References
External links