Not to be confused with Sunspire.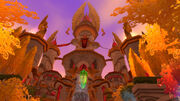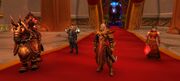 Sunfury Spire is Silvermoon City's palace. It is located in the Court of the Sun and contains the Inner Sanctum.
It is here that High King Anasterian Sunstrider used to rule.[1] Now, Regent Lord Lor'themar Theron, ruler of Quel'Thalas, governs the country with the advice and counsel of Ranger General Halduron Brightwing and Grand Magister Rommath.[2] The spire also contains the mage and priest trainers for the city.
The spire is guarded by two large rows of blood elven guardians, and the royal guard force within.
In the RPG

This section contains information from the Warcraft RPG which is considered non-canon.
The Sunstrider Palace is where the Sunstriders, a family of high elven lords, ruled Quel'Thalas from. This majestic palace was once a marvel of organic elven architecture, but now its walls are stained with elven blood and its graceful spires shattered like bones. The Scourge, despite its best efforts, never discovered the legendary Sunstrider treasury. This mythic vault lures adventurers and fortune seekers from across the world. Sunstrider Spire is by no means safe, as hordes of elven ghosts and undead guardians stand vigil over the palace.[3]
NPCs
Guards
Notes
Speculation
| | |
| --- | --- |
| | This article or section includes speculation, observations or opinions possibly supported by lore or by Blizzard officials. It should not be taken as representing official lore. |
Kael'thas may have named the Sunfury force after the building.
Gallery
Patch changes
References