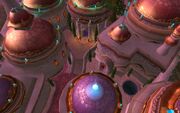 The Sunreaver's Sanctuary is the Horde district of Dalaran. It is named after Archmage Aethas Sunreaver, a member of the Council of Six. It is controlled by the Sunreavers, a group of blood elves under the Archmage's command. The Sanctuary houses an inn, an auctioneer, and several vendors as well as the Wintergrasp battle-mage, Magister Surdiel, and a portal to Orgrimmar.

This section concerns content related to Mists of Pandaria.
After Jaina Proudmoore discovered that the Sunreavers helped Garrosh Hellscream steal the

 [Divine Bell] by using Dalaran portals to infiltrate Darnassus, Jaina mobilized the Kirin Tor, Alliance forces, and the Silver Covenant to purge the Horde from Dalaran, including Sunreaver's Sanctuary.

This section concerns content related to Legion.
By the time Dalaran was teleported to Deadwind Pass, the area was empty and patrolled by Kirin Tor Guardians. Sunreaver Guardian Mages reappeared in the Sanctuary very soon after the vote took place to allow Horde mages back into the Kirin Tor and when Dalaran was attacked by the Burning Legion in

 [10-45] City Under Siege.
After moving the city again to the Broken Isles, this area became known as the Windrunner's Sanctuary.
NPCs
PvP battlegrounds sanctum

Unnamed

Class trainers

Justice Point Quartermasters
Trivia
Patch changes
External links
| Northrend | Purge of Dalaran | Deadwind Pass |
| --- | --- | --- |
| | | |