Swamplighter Hive
For the mob, see Swamplighter Hive (mob).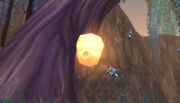 Swamplighter Hive is found at [55.3, 74.9]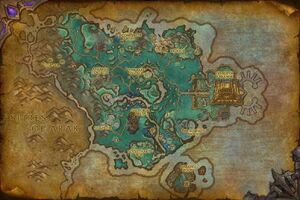 hanging from a tree at the southern end of the river next to the waterfall in Blademoon Bloom in southern Shadowmoon Valley.
The sticky, sweet liquid inside of swamplighter hives is highly combustible.[1]
Loot the hive to acquire the

 [Angry Beehive] toy, but be warned that looting the object will aggro every wasp flying nearby!
Tracking quest
To check whether the Swamplighter Hive has been looted, copy and paste this command into the chat window:
/run print(C_QuestLog.IsQuestFlaggedCompleted(35580))

If a "true" appears in the chat window, the Swamplighter Hive has been looted; "false" indicates the opposite.
Patch changes
References
External links