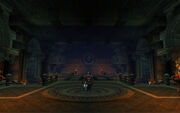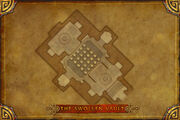 The Swollen Vault [62, 40]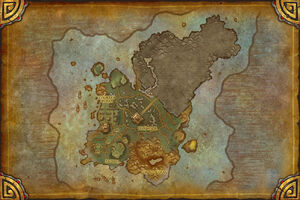 is Lei Shen's treasure hoard. It is accessed via the Stormsea Landing, halfway between the dock and the Bloodied Crossing on the northeastern side of the Isle of Thunder.
Inhabitants
Achievement
Staying on the pillars for 90 seconds, which have a safe spot shown in one of the patterns below, will award the Pandaria quest achievement

 [Platform Hero].
| | A | B | C | D | E |
| --- | --- | --- | --- | --- | --- |
| 1 | | 17 | 16 | | |
| 2 | 9 | 8/18 | 7/15 | 6 | |
| 3 | 10 | 19 | 14 | 5 | |
| 4 | 11 | 12/20 | 13 | 4 | |
| 5 | | 1/21 | 2 | 3 | |

| | A | B | C | D | E |
| --- | --- | --- | --- | --- | --- |
| 1 | | | | 15 | 14 |
| 2 | 9 | 10 | 11 | 12/16 | 13 |
| 3 | 8 | | | 17 | |
| 4 | 7 | 6 | 5 | 4/18 | 3 |
| 5 | | | | 1/19 | 2 |

| | A | B | C | D | E |
| --- | --- | --- | --- | --- | --- |
| 1 | | | 15 | 14 | 13 |
| 2 | | | 8/16 | 9 | 12 |
| 3 | | 6 | 7/17 | 10 | 11 |
| 4 | 4 | 5 | 18 | | |
| 5 | 3 | 2 | 1/19 | | |
Patch changes
External links