Syrawon the Dominus
Syrawon the Dominus is a shivarra located in a cave[53.94, 44.87]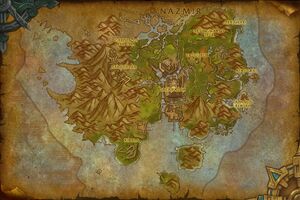 by Kingsmouth River in Zuldazar. She is tracked by Marius Felbane and Tehd Shoemaker.
Abilities
  Curse of the Dominus — Reduces haste by 25% for 12 sec. Inflicts Shadow damage to an enemy every 2 sec for 12 sec.
  Scything Whirl — Strike an enemy, inflicting Physical damage and knocking them backwards.
  Shadow Winds — Creates a shadowy tornado in front of the caster that travels in a line, inflicting Shadow damage to all enemies who touch it.
Drops
Objective of
Patch changes
External links