For the item that drops during the Lady Vashj encounter, see  

[

Tainted Core

]

.
Tainted Core
Use: Teaches you how to summon a Tainted Waveling.
Tainted Core drops from Hydross the Unstable in Serpentshrine Cavern.
Pet Journal
"The spawn of Hydross, considered by the elemental community to be the "Earl of Puddles.""
Battles
Elemental: Ignores all negative weather effects. Enemy pets can still gain the beneficial effects from weather when facing an elemental.
Notes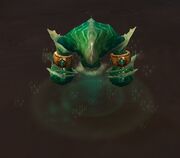 From time to time the Tainted Waveling will purify itself, turning blue for one minute.
Patch changes
External links
Battle pet types
Elemental battle pets

Char

Dread

Fun Guss

Leafadore

Mawtouched Geomental

Stabilized Geomental

Stemmins

Withering Creeper