Talk:High elf
Improving Relations?
With all the content appearing with WOTLK, I've noticed that there have been interesting changes between the high elves (moslty of the Silver Covenant and the Alliance. (Particularly Night Elves)
First off, there are many high elves from the silver covenant fighting alongside alliance forces all over northrend. Second, There are high elves in ALL major cities (including Darnassus) when the Strand of the Ancients weekend comes up. Third, many of the Alliance Conscripts are night elves, and fight alongside Captain Iskandar, (who is affiliated with the Alliance expedition instead of the silver covenant) Before the Wrathgate event, there are High elf mages and Night elf Sentinels fighting along side each other as well.
Recently with the Argent Tournament we've seen not only many high elves from the silver covenant (hosting), but also many high elves part of the Argent Crusade, as Patrollers, Vendors, etc. Heck, there are high elves and night elves literally standing next to each other in many cases.
Basically, what I'm getting at here, is that maybe with all the recent changes, that the "Alliance Shunned" high elves arent as "shunned" as they were before.--Blayaden (talk) 15:15, 17 April 2009 (UTC)
Highelf buildings.jpg
This image shows elven architecture in Outland and has a description which says that they attempt to show that they are not blood elves of Quel'Thalas. This makes little sense seeing as the high elves in Outland are remnants of the Alliance Expedition and would not have had any idea that there was ever any distinction between high and blood elves until after the portal was reopened (and the Allerian Stronghold was built decades before that). Sarvam (talk) 00:29, July 20, 2010 (UTC)
Fan Images
What is the deal with those fan made images? They clearly present some differences that are not in game nor in lore (Shorter eyebrows, larger ears) and the face selection shows a clear bias on my opinion. I think they shoud be removed, they don't even have the aesthetic cuality of other fan images.--Beloren (talk) 07:32, July 26, 2010 (UTC)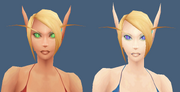 Lor'themar as a leader
As for as I know most High Elves despide him. Is he only a leader by legitimate means in that he rules Quel'thalas?

 The Artist Formerly Known As, MoneygruberTheGoblinMind your manners (talk contribs) 23:47, 18 February 2012 (UTC)
Tides of Darkness, pg. 117
How far does this source reason the linked parts? The page 117 says something about the war at the blackrock and nothing about high elves. --Sutsuj (talk) 11:57, 28 April 2012 (UTC)
Page Images
I think that Dath'Remar is a poor choice for the main page image. He bares little resemblance to the common appearance of high elves.--Drakolord7 (talk) 04:18, 4 June 2012 (UTC)
Racial Capital
Just a small point of clarification; what is the reasoning behind Dalaran being listed as the racial capitol? Is it because of the Silver Covenant, which is probably the largest ORGANIZED group of Quel'dorei? Otherwise I would think Stormwind would fit better since to my knowledge it still has the largest population of Queldorei. Adeodatus (talk) 16:33, 10 January 2013 (UTC)
Better explanation: its temporary settlement. Just like the gnomes were at Ironforge now they are trying to conquer their home back. Trolls, leaving orgrimmar because they don't want nothing to do with Garrosh Hellscream... (but too tell you, maybe Orgrimmar is now an official the capital for Trolls, since Vol'jin is Warchief? XD) Worgens, camping out at Darnassus, but the king is at Stormwind City. So, for the High Elves, Dalaran, its like temporary, is it not? — SurafbrovWowpedia's wiki representative T / C 07:00, 9 December 2013 (UTC)
HElf/BElf population
I posted this in the BElf discussion page, but feel it should be included here too:
As cited on the page: 90% of original HElf population was killed during the 3rd War. Of the 10% that survived, 90% became BElves. Of the BElves, 15% went with Kael to Outland... Vargoth's Journal says that Kael's army of Sunfury numbered in the thousands. That means the Azeroth BElf population is in the ten thousands. And remaining HElf population is in the thousands. And he original HElf population was in the hundred thousands. -Aquamonkeyeg (talk) 21:19, 22 March 2014 (UTC)
Since this got brought up again, I'll just put a link to my post where I broke it down.[1] --Aquamonkeyeg (talk) 20:34, 1 May 2015 (UTC)
Patch 6.1 changes?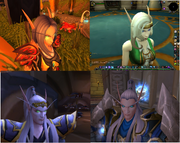 I was taking some screenshots of the updated High Elf/Blood elf NPC's and I noticed something that I think is new. Prior to 6.1 all blood elf models had a glowing green effect on top of their eyes. Even high elves. With the revamp I noticed (while taking pictures with dark lighting) that while blood elf npc's and players kept their "glowing" eyes, high elves no longer had this. Their eyes were blue without the green effect on their eyes. This might help identifying high elves a bit easier. Blayaden6724 (talk) 17:20, 3 March 2015 (UTC)
Moving a line
While I was editing this earlier, I came across a paragraph (the one that begins, "While some high elf communities..." under Wrath of the Lich King) that I think might go better in the "Notes" section. I suspect the reason it appears here is because of its connection to the Silver Covenant (since they were introduced in WotLK), but it honestly seems kind of tangential in context (jumping from the high elves' role in the Northrend campaign to using hippogryphs as mounts then back to a sentence about Vereesa Windrunner). It's an interesting factoid but I'm not sure it really makes sense where it is right now. There's even a bullet point under "Notes" which mentions the high elves' use of dragonhawks as flying mounts in early WCIII builds, so I think moving it there would work well. I would have moved it myself but I didn't want to move stuff around without asking first. Emperorpapaltine (talk) 17:11, 24 May 2017 (UTC)
Alleria
While she is a prominent high elf, she doesn't lead any high elven group. Even void elves are said to be blood elves. --Mordecay (talk) 18:45, 26 November 2017 (UTC)
Main Paragraph Needs a Rewrite
The main paragraph is full of outdated information that needs to be rewritten due to changes in the game and references from 2008 and earlier non-canon books that Chronicles has effectively overridden. In particular is this line-
"Modern high elves are a rare sight, and are commonly mistaken for blood elves.[12][13] In consequence, there are very few high elves left on Azeroth today. High elves did not gather in any significant numbers, nor did they act as a coordinated whole. They are a very small group of individuals scattered all over the world. As such, they do not have common opinions or goals. Indeed, modern high elves cannot even truly be said to have a culture—only a past filled with glory and regret."
The entirety of this line is cited by pre-Wrath sources, and in Wrath we were given the city of Dalaran, which was dominated by High Elves, along with the Silver Covenant, a primarily High elven faction that has gone on to appear in several expansions and has played major roles in Pandaria and Legion. Blayaden6724 (talk) 15:32, 31 March 2019 (UTC)
I may not contribute as much as I used to, but I have to agree. The intro paragraphs on this article need to be rewritten and revamped. Heck, if I had the sources, I'd do it myself. It seems much of the intro references the outdated encyclopedias and it feels all over the place. I'm sorry to be a critic, but I just want what's best for this website. Hallowseve15 (talk) 21:58, 31 March 2019 (UTC)
I apologize, let me try to rephrase. It's not just about their population. Everyone knows high elves are low in numbers and scattered people. I don't know, it just feels like the intro could be updated and elaborated on. That's all. Hallowseve15 (talk) 22:32, 31 March 2019 (UTC)
How about creating a "High elves and blood elves" race page
The Warcraft Encyclopedia/High Elves and Blood Elves
How about creating a High elves and blood elves (are physiologically the same race) page, as it is a name used in the old online Warcraft Encyclopedia. It's an odd name, but then again this is an odd case. My thinking is to have this new page about the race (creature type) and still having the two high elf and blood elf pages for their cultures (or maybe merging it into the new race page). Mrforesttroll (talk) 20:32, 1 April 2019 (UTC)