Talonpriest Mask
Talonpriest Mask
Use: Carefully crate the restored artifact.
"Artifact details have already been logged in your Archaeology Journal, under the Completed Artifacts tab."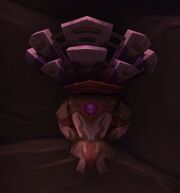 Talonpriest Mask is a common arakkoa archaeology artifact, created from 50

[Arakkoa Archaeology Fragment]. One
 [Arakkoa Cipher] may be used to solve this artifact.
Description
Believing they have been abandoned by the sun, cursed Arakkoa prefer to hide in the forests or beneath awnings during daylight hours. Talonpriests take this a step further and never show their faces to the sun, wearing ritual masks that act as a focus for their communes with Anzu.
Patch changes
External links