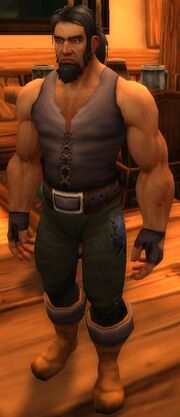 Tapoke "Slim" Jahn is a human located in Deepwater Tavern at Menethil Harbor in the Alliance-aligned zone of the Wetlands. He was involved in the kidnapping of Varian Wrynn, hired by the Defias Brotherhood to ensure one of their men got on the same boat as the king.
World of Warcraft: The Comic
He recognizes Varian Wrynn upon his return to Menethil Harbor and runs to warn a tavern full of Defias members that Varian still lived. When Lo'Gosh's group killed the Defias in the tavern, he escaped the town wanting to inform the Brotherhood of Varian.[1]
Objective of
Quests
See also
References
External links