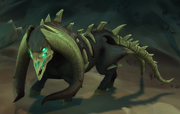 Tauraluses are beasts native to Maldraxxus that resemble undead oxen. They enjoy juicy nibblers as food, and wranglers sometimes use the grubs as bait to lead tauraluses.[1][2]
Dundae is a tauralus wrangler.
Known
Named
Unnamed
As a hunter pet
Main article: Oxen
Tauralus are tamable by hunters as part of the oxen family.
As a mount
Main article: Tauralus mounts
Gallery
See also
References
Creature group
Beast creatures

 

Arthropod

Arachnid
Crustacean
Insect

 

Mammal

Carnivoran
Ungulate

Bovids
Camelids
Cetaceans
Proboscids
Swine