Tavern in the Mists

Tavern in the Mists
Race(s)
 Pandaren
Location
Veiled Stair
Characteristics
Facilities

Stables

Anvil & Forge

Bank        Auctions
Travel
Flight Master(s)
Mass-transit
Portal(s)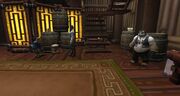 The Tavern in the Mists can be found atop the Path of a Hundred Steps on the Veiled Stair. The high path immediately behind the tavern leads to the Gate of Endless Spring, entrance of the Terrace of Endless Spring raid. The lower path, the Spring Road, can be taken to ascend to the Ancient Passage.
The local innkeeper is Tong the Fixer. Notably, Wrathion is found here, along with his bodyguards Left and Right and the Blacktalon Quartermaster. It is from the Tavern in the Mists that Wrathion directs players on his long expansion-spanning legendary quest chain.
It can be visited during the Kirin Tor Tavern Crawl. The local specialty is the

 [Blackout Kick].
NPCs
Inside
Out front
In the hot springs (random groups)
—OR—
Guards
Patch changes
External links
| Tavern in the Mists | Veiled Stair | 8.3.0 |
| --- | --- | --- |
| | | |