The subject of this article was removed from World of Warcraft in patch 1.4.0.

This includes items and quests that can no longer be obtained or are now deprecated.
The in-game information in this article is kept purely for historical purposes.
Teal Kodo
Mount
Use: Teaches you how to summon this mount.
Horde Only
Requires Level 40
Requires Journeyman Riding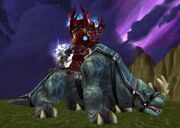 The Teal Kodo was a level 60 epic mount once bought in Bloodhoof Village. These were originally available before the armored epic mounts. As many servers were not around before they became unavailable, the people that had gotten the mounts back then had quit, or the original owners traded them in for a regular armored kodo, they are exceptionally rare.
Mount Journal
"The kodo is the backbone of our people. Wherever the Horde goes - in trade, settlement, or war - there you will find the mighty kodo." - Harb Clawhoof
Achievements
Patch changes
External links
Mount family

Dragonkin
Feathermane
Invertebrate
Mammal
Reptile
Other

Specific types

 

Removed mounts

Original Epic
Reputation
Retired
reward
Event
Challenge
Promotional
Special