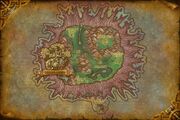 Teldrassil ia a level 1-10 Alliance zone, the starting zone for night elves. It begins with the night elf starting experience in Shadowglen, then proceeds to Dolanaar. The main plot involves investigating the corruption affecting the creatures of Teldrassil — a remnant of the curse that fell upon the colossal tree after when the Aspects refused to bless it — and traveling between the different moonwells to gather samples of water needed to reveal and destroy the corruption's source. Throughout the plot, the hero sees multiple visions explaining the major developments in night elf society since the Battle of Mount Hyjal.
Dolanaar
On the way to Dolanaar, Zenn Foulhoof asks players to find him some regeants from the forest, which results in players being disciplined by the Night Elves of Dolanaar. To atone for their actions, players trick Zenn into consuming Fel Cones.
 [1-30] 

Zenn's Bidding

 [1-30] 

Seek Redemption!

 [1-30] 

Nature's Reprisal

&  [1-30] 

Twisted Hatred
In Dolanaar itself, there are several parallel quest chains available.
After turning in

 [1-10] Teldrassil: Passing Awareness, Corithras Moonrage offers



 [1-30] Teldrassil: The Refusal of the Aspects. This chain will not be continued for a while.
Nyoma starts a quest chain to familiarize the player with flight paths:
Tallonkai Swiftroot starts a quest chain sending players to Starbreeze Village to recover his lost dreamcatcher:
 [1-30] 

The Emerald Dreamcatcher

 [1-30] 

Ferocitas the Dream Eater
Athridas Bearmantle starts the main quest chain of Dolanaar, which has players combating to the corruption that is afflicting Darnassus. To begin with, players defend the hibernating Druids of the Talon as they are attacked by Furbolg of the Gnarlpine tribe that were corrupted along with Teldrassil. Players are then sent to Denalan to investigate the corrupted vegetation of the tree starting with

 [1-30] Denalan's Earth.
Finale: The Vengeance of Elune
To unlock the final quest chain, complete all of:
After that, a new quest chain opens from Corithras Moonrage as players fight the source of all the corruption on Teldrassil - the Bough of Corruption. Defeating it cleanses the corruption from Teldrassil once and for all.
In the Temple of the Moon, Sentinel Cordressa Briarbow offers

 [5-30] Breaking Waves of Change, which leads players to Darkshore.
Full Quest List