Terracotta Arm
Use: Carefully crate the restored artifact.
"Artifact details have already been logged in your Archaeology Journal, under the Completed Artifacts tab."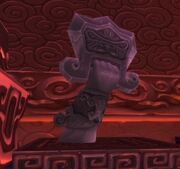 The Terracotta Arm is a common mogu archaeology artifact, created from 50x

[Mogu Archaeology Fragment]. Up to one
 [Mogu Statue Piece] may be used to solve this artifact. A pristine version can also be crafted.
Description
When the Mogu had exhausted their options for enslaved mortal warriors, they turned their attention to creating armies of animated constructs to do their fighting for them. Because these terracotta warriors would sometimes sit dormant for centuries, it is hard to pinpoint exactly when this one was constructed or used. However, scoring at the base of the severed arm indicates that it was felled in combat.
Patch changes
External links