Terrible Turnip
Use: Teaches you how to summon this companion.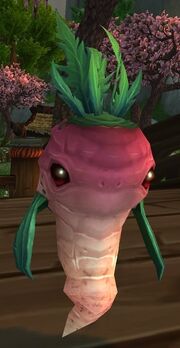 If you plant an

 [Ominous Seed] at Sunsong Ranch it can grow into the Terrible Turnip. Ominous Seeds are rarely acquired when harvesting fully-grown vegetables.
Pet Journal
"And you thought turnips at the dinner table were bad."
Battles
Elemental: Ignores all negative weather effects. Enemy pets can still gain the beneficial effects from weather when facing an elemental.
Notes
Though not a particularly powerful battler, this pet is greatly valued by serious collectors due to it's Weakening Blow ability, which cannot kill an opponent, and can only reduce hp to 1 (though its other abilities can kill). This allows collectors to easily and safely reduce the hp of a pet they wish to trap, without any risk of killing it.
Patch changes
External links
Battle pet types
Elemental battle pets

Char

Dread

Fun Guss

Leafadore

Mawtouched Geomental

Stabilized Geomental

Stemmins

Terrible Turnip

Withering Creeper