Thal'darah Overlook

Type
Small town
Leader(s)
Master Thal'darah
Race(s)
 Night elf
 Dryad
 Human
 Gnome
Language(s)
Darnassian, Common, Gnomish
Faith(s)
Druidism, Elune, Holy Light
Affiliation(s)
Darnassus
Location
Stonetalon Mountains[39, 31]
Status
Active
Characteristics
Facilities

Stables

Anvil & Forge

Bank        Auctions
Travel
Flight Master(s)
Mass-transit
Portal(s)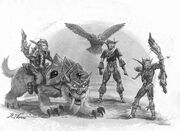 Thal'darah Overlook is an Alliance town located just south of Stonetalon Peak in Stonetalon Mountains. It has a moonwell and wisps.[1]
Travel connections
Flight
NPCs
Notes
It takes approximately two days to get from Charred Vale to the Overlook.[2]
Gallery
Patch changes
References
External links