For the similarly named Alliance death knight, see Thassarian. For the similarly named dwarven family, see Thaurissan family.

Thalassian is the primary language of blood elves and high elves (and by extension, of the void elves). It has both written and spoken equivalents. Individuals who are unfamiliar with the language's proper name may refer to it as High Elven.
Like Nazja and Shalassian, Thalassian is derived from the Darnassian language. Hence, Thalassian is closely related to Darnassian and there is some overlap between the two languages. Further Darnassian utterances may, therefore, have been preserved in modern Thalassian, in addition to those that are specified below.
So far, linguistic scholars have opted to err on the side of caution in documenting Darnassian terms and phrases that are also considered part of the Thalassian language. Certainly, this issue, however delicate, merits further research. Nevertheless, addressing a high elf or blood elf with a Darnassian-specific word or phrase can be considered offensive or at the very least rather foolish, and so the speaker must handle the situation with care.[1]
Thalassian is one of the four known elven dialects.[2]
Thalassian primer (official translations)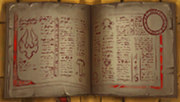 Here are a few common Thalassian phrases and words, for which the translations have been officially confirmed by Blizzard:
Untranslated words or phrases
Agamath — The first of the gates guarding the Sunwell in Sunwell Plateau.
Anara'nel belore — Kael'thas Sunstrider.
An'daroth — One of the three Ghostlands Darnassian spy encampments. Possibly Darnassian.
Andu fallah — Blood Mage.
An'owyn — One of the three Ghostlands Darnassian spy encampments. Possibly Darnassian.
An'telas — One of the three Ghostlands Darnassian spy encampments. Possibly Darnassian.
Anar'alash denal! — Said by Lor'themar Theron during  [15-35] 

One Last Grasp

.
Anu bala belore alon — Nethermancer Sepethrea.
Aranal, ledel! — Prince Keleseth.
Archonisus — The third of the gates guarding the Sunwell in Sunwell Plateau.
Aseph-ah-balla nah — Blood Mage.
Balamore shanal! — Kael'thas Sunstrider.
Bandal! — High Nethermancer Zerevor.
Belesa menoor! — High Nethermancer Zerevor.
Bin dorei am'ovel — Prince Taldaram.
Diel fin'al — High Nethermancer Zerevor.
Diel ma'ahn... orindel'o. — High Nethermancer Zerevor.
Elrendar — a Quel'Thalas river and a waterfall, both fed by a lake with the same name.
Endala finel endal! — Nethermancer Sepethrea.
Endirina-dor — Spell Breaker.
Endo-enah — Kael'thas Sunstrider.
Endorel aluminor — High Botanist Freywinn.
Enshu-falah-nah, dorini — Said by Sky Captain Swayze on the Spine of Deathwing. Possibly Darnassian.
Falthrien — an arcane academy on Sunstrider Isle.
Fal'inrush — a crossbow.
Felomin ashal — Kael'thas Sunstrider in Magister's Terrace.
Ishera-do — Blood Mage.
Lu'minellia — A suit of armor worn by the high elf kings.
Quel'Danas — Island home of the dragonhawks and location of the Sunwell.
Quel'Danil — High Vale. "Quel" means "High". Danil can be inferred from the name of the Highvale Vindicator, Highvale Sentry, Highvale Swiftblade, and the other removed NPCs of the lodge. It is translated as "High Peak" in the non-canon RPG.
Quel'Lithien — A quel'dorei lodge in Eastern Plaguelands, and location of the Silvermoon City Register.
Rae'shalare — Bow of Sylvanas Windrunner.
Rohendor — The second of the gates guarding the Sunwell in Sunwell Plateau.
Selama am'oronor! — Said by High Nethermancer Zerevor, and by Lady Liadrin in  [10-50WQ] 

Zillie Wunderwrench and Grizzwald

.
Selama amor'anore! — Said by Gathios the Shatterer.
Sha'amoor ara mashaal? — High Nethermancer Zerevor.
Sha'amoor seabenal! — High Nethermancer Zerevor.
Shalandis — An island off the coast of the western Ghostlands, headquarters of Darnassian spying missions against Silvermoon City.
Shan'dor — One of the runestones protecting Eversong from the plague.
Tel'thas — Dagger of the Blood King.
Thalas'din belore — inscripted on  

[

Fal'inrush, Defender of Quel'thalas

]

, most likely translated as 'Home of the Sun'.
Thori'dal — The legendary bow of Quel'Thalas.
Thalassian speculation
| | |
| --- | --- |
| | This article or section includes speculation, observations or opinions possibly supported by lore or by Blizzard officials. It should not be taken as representing official lore. |
Thalassian word parser
This is the list of words created by the in-game language parser for the Thalassian language and is listed as language number ten (word range 800-901) in the Language text file.
In the in-game translator, the language parser for Thalassian shares similar words with the Darnassian parser.
Note: The language algorithm used by the in-game "translator" merely makes the words look like Thalassian. It does not actually translate words. Therefore, translated in-game speech isn't truly Thalassian.
| Number of letters in word | Word List |
| --- | --- |
| One-letter words | A, N, I, O, E, D |
| Two-letter words | Da, Lo, An, Ni, Al, Do, Ri, Su, No |
| Three-letter words | Ano, Dur, Tal, Nei, Ash, Dor, Anu, Fal, Tur, Ala, Nor, Osa |
| Four-letter words | Alah, Andu, Dath, Mush, Shar, Thus, Fulo, Aman, Diel, Dieb, Rini, Anar |
| Five-letter words | Talah, Adore, Ishnu, Bandu, Balah, Fandu, Thera, Turus, Shari, Shano, Terro, Eburi |
| Six-letter words | Dorini, Shando, Ethala, Fallah, Belore, Do'rah, Neph'o, Man'ar, Ishura, U'phol, T'as'e |
| Seven-letter words | Asto're, Anoduna, Alah'ni, Dor'Ano, Al'shar, Mush'al, Aman'ni, Shan're |
| Eight-letter words | Mandalas, Eraburis, Dorithur, Dal'dieb, Thoribas, D'ana'no, Il'amare |
| Nine-letter words | Neph'anis, Dune'adah, Banthalos, Fala'andu, Dath'anar, Shari'fal, Thori'dal |
| Ten-letter words | Thero'shan, Isera'duna, Ash'therod, Dorados'no, Shar'adore |
| Eleven-letter words | Fandu'talah, Shari'adune |
| Twelve-letter words | Dor'ana'badu, T'ase'mushal |
| Thirteen-letter words | U'phol'belore |
| Fourteen-letter words | Turus'il'amare, Anu'dorannador |
| Fifteen-letter words | Asto're'dunadah |
| Sixteen-letter words | Shindu'fallah'na |
| Seventeen-letter words | Thoribas'no'thera, Ando'meth'derador, Anu'dorinni'talah, Esh'thero'mannash |
Speculation
For fan translations see Thalassian (speculation).
In the RPG

This section contains information from the Warcraft RPG which is considered non-canon.
Translations:
High elven names
The past is a burden to the high elves, yet they maintain naming rituals that are millennia old. Many of the names of elven priests and heroes have become the names used for elves in modern times. The high elves share a connection with the sun that is quite prevalent in their choice of family names.
Male names: Mariel, Athaniar, Anandor, Tharama, Viridiel, Malanior.
Female names: Anarial, Freja, Driana, Coria, Alanassori, Melanion, Azshara.
Family names: Boughstrider, Dawnblade, Lightbringer, Morningray, Suntreader.[32]
Notes and trivia
In the early phase of the World of Warcraft: The Burning Crusade alpha, the blood elves' language was known as "Sindassi."[citation needed] 
Lament of the Highborne and the Canticle of Sacrifice are two songs in Thalassian.
An award-winning, a fan-made song from the 2007 BlizzCon Song Contest was "Belore Shala Diel", sung in Thalassian and English, by Phillip Presswood (Xalea).
Day of the Dragon had described Thalassian as an "elder tongue [that] is almost forgotten",[33] which does not fit the current lore about the elven tongue anymore.
In-game, void elves and blood elves (as well as Horde mages who possess the

[

Arcane Linguist

]

ability) can speak cross-faction using Thalassian. This is the third language capable of cross-faction communication, after Pandaren and Demonic. This means a blood elf demon hunter can speak to two different races of the opposing faction: void elves via Thalassian and night elf demon hunters via Demonic.
"Thalassa" is Greek for sea or ocean (Θάλασσα).

During the Second War, elven warships played an integral part in the Alliance's naval power.
References
^ Cycle of Hatred, pg. 67
^ a b Arthas: Rise of the Lich King, 231
^ Sean Copeland on Twitter (2014-02-14)
^ Sean Copeland on Twitter (2014-02-14)
^  [53] 

Kim'jael Indeed!

^ a b Lands of Conflict, 113
^ Magic & Mayhem, 16
^

WoW TCG BotG, Quel'Serrar flavor text

^ World of Warcraft: Chronicle Volume 1, pg. 120
^   [10] 

For the Alliance

^ Beyond the Dark Portal, 204
^ Beyond the Dark Portal, 238
^ Shadows & Light, pg. 172
^ Lands of Conflict, pg. 19
^ Arthaus. World of Warcraft: The Roleplaying Game, 37. ISBN 9781588467812.

 

^ Day of the Dragon, 136
External links