The Abominable Greench
| | |
| --- | --- |
| | The subject of this article or section is part of Feast of Winter Veil, a seasonal event that lasts several weeks. Once the event has run its course, this will no longer be available until next year, but there are no guarantees. |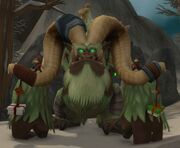 The Abominable Greench is a level 103 elite yeti that resides in the snowy region of the western peak of the Alterac Mountains. He only appears during the height of winter and probably lives on a seasonal hibernation cycle. When he does appear, however, he must satiate a savage hunger and constantly scrounges for food. He is known to attack travelers passing through the mountains, taking their entire food supply. Since the employees of Smokywood Pastures make use of the mountain routes to transport their goods, they are often hindered by the Greench's annual awakening and lose some amount of their rations to his voracious appetite.
During the 2011 Feast of Winter Veil event, he has captured Metzen the Reindeer with the aid of his Rotten Little Helpers.
Objective of
When killed during

 [60G Daily] You're a Mean One...,

 [Stolen Treats] will appear near the cave and Metzen the Reindeer will be freed.
Abilities
Throw Strange Snowman - Hurls a Strange Snowman towards an enemy.

Snow Crash - Inflicts 29250 to 30750 Frost damage and stuns enemies for 6 sec.

Throw Winter Veil Tree - Hurls a Winter Veil Tree towards an enemy.

Abominable Crush - Charges towards a Winter Veil Tree and then starts using Abominable Crush. Inflicts 97500 to 102500 Physical damage and knocks enemies into the air.

Shrink Heart - Deals periodic damage and slows the attack and casting speeds of nearby enemies. This effect stacks. Movement breaks the effect.
Notes and trivia
After being killed, players will have only 5 minutes to get the stolen treats and free Metzen.

Since the Strange Snowman also provides the daily quest, if players park all their available characters, they can get between 4-5 characters done per kill.

The Abominable Greench is a reference to the Grinch, a fictional character from Dr. Seuss's children's book How the Grinch Stole Christmas!
Gallery
Patch changes
Patch 5.1.0 (2012-11-27): Updated for Mists of Pandaria. Reclassified from beast to humanoid. Health changed from 3,435,680 to 17,445,000.

Patch 4.3.0 (2011-11-29): Level changed from 36 elite to ?? beast elite. Now has a new model and abilities.

Patch 1.2.0 (2004-12-18): Added.

See also
External links