The Activation Rune is a quest in the Waygate quest chain. It takes place in Un'Goro Crater.
Objectives
Obtain the Omega Rune inside the Shaper's Terrace and bring it to The Etymidian.
Description
This colossal being appears to be inactive. You notice an empty rune-shaped slot on its chest.
Perhaps you might be able to find the missing rune inside the nearby overlook.
Rewards
Progress
<The rune-shaped slot on The Etymidian's chest appears to glow with faint power.>
Completion
<You hear the rumbling sound of stone grinding as The Etymidian's limbs come to life.>
I am needed somewhere?
Gains
Notes
The rune drops from High Cultist Herenn; he is at [48.2, 2.9]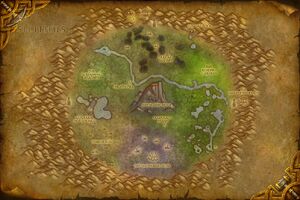 inside the Shaper's Terrace, north of the Etymidian.
Progression
External links