For the titular item, see The Blank Scroll (item). For the quest item, see  

[

Blank Scroll

]

.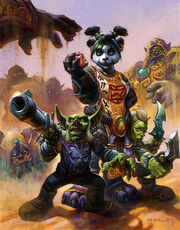 The Blank Scroll is a short story by Gavin Jurgens-Fyhrie that is featured on the official World of Warcraft site. It is about the Lorewalkers and also acts as a sequel of sorts for Trade Secrets of a Trade Prince.
Description
The Warchief has ordered his loyal subjects to search Pandaria for anything that might bring power to the Horde. Two goblins think they'll earn a hefty reward for what they found on the north coast… but in order to crack open an old vault, they'll need the help of a lorewalker.
Characters
| Major | Supporting | Minor | Mentioned |
| --- | --- | --- | --- |
| | | | |
Locations
External links

World of Warcraft Community Site
 Faction Stories: The Blank Scroll
Type
Binding
& format
Short story books

---

The following texts were not published as short stories but rather published on the official Blizzard websites as blog posts split into several parts. However, they are included here for completeness' sake.