This article is a copy of "The Burning Crusade Townhall", an official article by Blizzard Entertainment. It presented information about a variety of things in the Warcraft universe. The original article, formerly located at http://www.worldofwarcraft.com/burningcrusade/townhall/, did not survive the overhaul of the World of Warcraft Official Website.
Do NOT change this article or section. It needs to be an accurate copy of the source.

It acts as a source for other articles here on Wowpedia, providing accurate information through citations.
For information about sources and citations, please see Wowpedia:Lore policy and Wowpedia:Citation.
World Map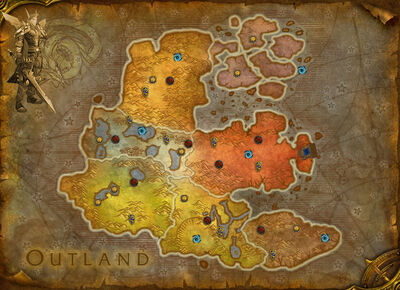 Outland awaits...
Beyond the Dark Portal lies the shattered realm of Outland, the broken remains of the orcs' homeworld, Draenor. Among the ruins of this world, the survivors of the cataclysm are trying to rebuild, and in other parts of Outland, life continues to thrive. Those brave enough to make the journey through the Dark Portal will find new allies, new enemies, and limitless adventure beyond an untamed horizon.
Level Range: 67-70
Cities
Dungeon: Tempest Keep
Blade's Edge Mountains
Level Range: 65-68
Cities
Dungeon: Gruul's Lair (Raid)
Zangarmarsh
Level Range: 60-64
Cities
Dungeon: Coilfang Reservoir
Hellfire Peninsula
Level Range: 58-63
Cities
Dungeon: Hellfire Citadel
Nagrand
Level Range: 64-67
Cities
Terokkar Forest
Level Range: 62-65
Cities
Dungeon: Auchindoun
Shadowmoon Valley
Level Range: 67-70
Cities
Dungeon: Black Temple (Raid)
Gallery
Source
The page can still be viewed here through the Wayback Machine.