The Call to War

Start
Auto-accept
End
Duke Lankral
Level
10-45
Type
Legendary
Category
Artifact
Experience
1,500
Rewards
1 54
Previous
 [10-45] 

In the Blink of an Eye

/  [10-45] 

In the Blink of an Eye

Next
  [10-45] 

A Pact of Necessity
Objectives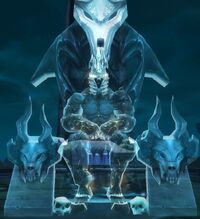 Meet with Duke Lankral at Krasus' Landing.
Description
<A chilling thought brushes your mind.>
Hear me, <name>.
The Legion has returned. They hope to control us, to bend us to their will. Fools - they only walk back within reach of our blades.
Your brethren within Dalaran have begun to gather at Krasus' Landing. Go, meet with Duke Lankral and all will be explained.
Rewards
You will receive:
Completion
I'm sure you have many questions, but they're just going to have to wait. We're at war now!
We have to move quickly, but I'll try to explain what I can.
Notes
Quest accept

The Lich King says: Destiny calls to you, <name>.
Progression
Level 45

  [45] 

The Scarlet Assault

Complete both:

  [45] 

The Scarlet Massacre

  [45] 

Raising an Army

  [45] 

The Zealot Rises

Optional:   [45] 

Champion: High Inquisitor Whitemane

Complete all of:
  [45] 

The Fourth Horseman

  [45] 

A Hero's Weapon

Patch 7.1.5 campaign

  [45] 

An Urgent Warning

Patch 7.2 campaign

  [45] 

Further Advancement

Class mount
Patch changes
External links