The Crucible of Carnage: The Deadly Dragonmaw!

Start
Gurgthock [50.7, 58.3]
End
Automatic
Level
30-35
Type
Group (5)
Category
Twilight Highlands
Rewards
28 20
Previous
 [30-35G5] 

The Crucible of Carnage: The Bloodeye Bruiser!

Next
 [30-35G5] 

The Crucible of Carnage: Calder's Creation!
For the Horde version of this quest, see  [30-35G5] 

The Crucible of Carnage: The Wayward Wildhammer!

.
Objectives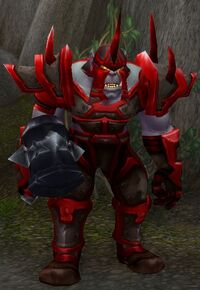 Get in the arena at the Crucible of Carnage and defeat Torg Drakeflayer!
Suggested Players [5]
Description
You're going to love this one! The Dragonmaw heard you were entering the arena and they're determined to make sure you don't leave it.
Time for some good ol' <race> on orc action! Let me know when you're ready to do this!
Rewards
You will receive: 28

20

(at max level)
Completion
No love in your heart for orcs I see. You really made a mess of that guy.
Notes
Round two, Torg Drakeflayer! An elite Dragonmaw orc with the following abilities:
Gurgthock says: The grand Crucible of Carnage awaits, <name>. Remember, once a battle starts you have to stay in the arena. WIN OR DIE!
Gurgthock yells: The battle is about to begin! <Name> vs. the vicious Dragonmaw Tork Drakeflayer! I THINK he's vicious anyway - hard to tell. I just let him because they let us take over their old arena here. Here's hoping for some blood!
Torg Drakeflayer yells: All of the highlands belong to the Dragonmaw, even this pit!
At 40%:
Torg Drakeflayer yells: Pitiful meat bags! Feel the full force of the Dragonmaw!
Victory:
Gurghock yells: Bah, couldn't you have dragged it out a bit! People don't pay me when you make it look that easy! Add some theatricts to it, will ya?!
Progression
Patch changes
External links