Objectives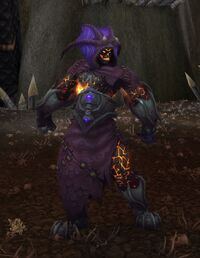 Get in the arena at the Crucible of Carnage and defeat Emberscar the Devourer!
Suggested Players [5]
Description
We've got someone you'll really love to hate this time around. I wasn't sure at first if I should let him into the pit, but a fight's a fight! And who am I to turn down some guaranteed cash?!
This guy hails from the Twilight Citadel itself, and comes toting a toasty punch. Better move fast and watch your back! Just give me the word when you're ready for some action.
Rewards
You will also receive: 37

60

and

 Round Three. Fight!
Completion
Looks like the title is yours! You really pulled that one out of the fire.
Congratulations. I hope the coin serves you well.
Notes
Round five, Emberscar the Devourer! An elite twilight ascendant with the following abilities:
Intro
Gurgthock says: The grand Crucible of Carnage awaits, <name>. Remember, once a battle starts you have to stay in the arena. WIN OR DIE!
Gurgthock yells: The Twilight's Hammer: happy to serve local nefarious schemes anytime, anyhwere. And today is no exception! Our final combatant hails from the not so distant Bastion of Twilight! Or is it the Twilight Bastion... bah, who acres!
Gurgthock yells: You all love to hate him, and he's glad to shower his hate right back down on ya. LETS... GET... BLOODY!!!
Emberscar the Devourer yells: This land shall be purged in the Twilight's Flame!
Lava attack
Emberscar the Devourer yells: Burn in the liquid heat of the Firelands!
At 10%:
Emberscar the Devourer yells: Even the skies burn with my fury!
Victory
Gurgthock yells: I DON'T BELIEVE IT! WE HAVE A NEW CHAMPION OF CARNAGE!!! Our big, bad beefly challenger has been defeated by a ragtag crew of nobodies! Incredible finish!
Progression
Patch changes
External links