The Cursed Old Wolf
<Right Click to Read>
"The MONGREL King of Gilneas can be of use to us!"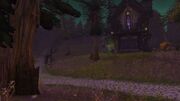 The Cursed Old Wolf is a Scarlet Brotherhood propaganda pamphlet located in a stand of trees just southwest of Calston Estate in Tirisfal Glades.[43.79, 54.89]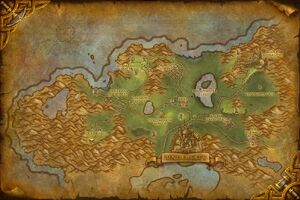 Three other similar pamphlets are lying in the same location:

 [The Last Menethil],

 [The Traitor King], and

 [The Would-Be Queen].
Content
We all know that Anduin Wrynn is a traitor to his race and does not deserve to be king. These facts are INDISPUTABLE.
So who should be king? For now, there is only one answer: Genn Greymane.
---
Yes, we must rally behind a shapeshifting monster, cursed by a night elf plague to spend half his life as a beast.
Why?
Because for all his many flaws, Greymane HATES the Forsaken. He wants the Banshee DEAD. His goals align with ours, and he has the forces to get the job done.
---
But do not worry, brothers and sisters. Greymane is NOT a long-term solution. We will follow him only until the undead are wiped out.
Then we will bring down Greymane and turn our blades upon the rest of his cursed kind.
---
It will be a challenge to hide your disdain for the mongrel worgen. But we must do it for a time, brothers and sisters.
Once Lordaeron is free of undead filth, the Scarlet Brotherhood will FINISH the job and ensure that only pure-blooded humans hold this land!
Patch changes
External links