For the character known as The Dark Lady, see Sylvanas Windrunner.
The Dark Lady is chapter 3 of the Legacy of the Damned campaign. It was the first major battle of the Civil War in the Plaguelands.
Loading screen
Two days later, at her base camp in the newly formed Plaguelands, Sylvanas ponders her newfound freedom and her future as one of the cursed undead.
Summary
Following Arthas' escape from Lordaeron after being ambushed, Varimathras approached Sylvanas Windrunner and offered her to join him and his brothers Detheroc and Balnazzar to form a new order. However, Sylvanas refused the Dreadlord's offer, incurring his wrath.
With only a handful of ghouls and a few banshee sisters, it looked certain that Sylvanas would be overwhelmed by Varimathras. However, the cunning dark ranger ordered her banshees to possess not only Varimathras' warriors, but also the leader of the nearby bandits, Blackthorn and the leader of the Stonemaul ogres, Mug'thol, vastly bolstering her forces and allowing her to march on Varimathras's base.
She also came in possession of Snarlmane and his gnolls; and the Murloc Puddle Lord and his murlocs. She encountered some Forest trolls, however Sylvanas hatred for the Forest trolls made her to kill them and their chieftain Zul'rogg.
After a great battle Sylvanas defeated Varimathras' Forces and surrounded Varimathras. In exchange for his life, the cowardly Dreadlord offered Sylvanas his loyalty as well as tactical information which would help her defeat Detheroc and Balnazzar, to which the dark ranger agreed.
Quests
Main Quests
Varimathras
Destroy the Red Undead Base
Varimathras has been dispatched here to lure Sylvanas to the three Dreadlords' cause. Sylvanas has her own plans for Arthas and will take Lordaeron for herself without the help of these pathetic Demons. Destroy Varimathras and his Undead army.
Optional Quests
Bandit Lord
Possess Blackthorn the Bandit Lord
With Lordaeron in ashes, the few remaining Humans have turned on each other. The ruthless Bandit Lord in this region could prove to be an invaluable asset. Find this Bandit Lord and possess him to further bolster your forces.
Ogre Warlord
Possess the warlord Ogre Mug'thol
Mug'thol the Warlord is preparing his Ogres for battle in the hills. Find Mug'thol and possess his soul so that his war preparations are not wasted on the wrong enemy.
Transcript
Prelude
During the Mission
Optional Quest
Bandits

Banshee: Perhaps, mistress. But there are more of them out there. If we could lure them to our side, they would be a great help against Varimathras' forces."
Blackthorn: Never!
If Blackthorn is possessed.
Ogres

Ogre: Ogres no work for no dead!
Mug'thol: Me warlord Mug'thol! Me crush weak dead!
If Mug'thol is killed.
If Mug'thol is possessed.
Trolls

Sylvanas Windrunner: Forest trolls! I hate them even more than those cursed dreadlords. Slaughter them all!
Forest Troll: You'll never get us all, witch! Chieftain Zul'rogg will hunt you down and avenge us!
Snarlmane: Back, you dead! No one trespasses on our territory!
Mercenaries
Mission Complete
Unused quotes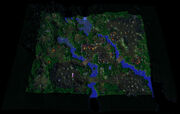 Forces
Possessed Forces:
Notes
There are several burning Alliance of Lordaeron buildings, but the only human faction is the Bandit one, which includes renegade wizards as well.
The bandit lord, Blackthorn, is named after Kyle "Blackthorne" Vlaros, from Blizzard's platformer game Blackthorne.
The Stonemaul clan ogres are all of unique types exclusive to this mission.
After capturing the ogre or bandit leaders, the two factions become recruitable mercenaries at the Mercenary Camps.
Sylvanas's unused quote suggests that there was going to be a third optional quest to recruit the Murloc Puddle Lord and his murlocs.
Missing sound files indicate that Snarlmane and his gnolls, as well as Zul'rogg and his forest trolls, could be possessed as well.
External links

BlizzPlanet
 Warcraft 3: Frozen Throne - Undead Campaign - Chapter 3: The Dark Lady