Objectives
Recover the Key of Ilgalar.
Description
We got lucky with some vital intelligence from locals of this valley. Those two behind us, the Ranthals, have informed me that the gnolls in Galardell Valley are being controlled by a powerful magus in the tower of Ilgalar. The problem is that the tower is sealed by a magical force field.
The first thing we need to do is get the key that will get you insde. The gnoll general, Fangore, has your ticket inside. Kill General Fangore and get the key.
I'll be in touch.
Progress
I hear you loud and clear, <name>.
Completion
<Keeshan comes in over the Bravo Company field kit.>
Now the easy part is over, it's time for phase two.
("Fangore was a chump.")
Notes
Pick up

 [7-30] Shadowhide Extinction before heading out. Follow the road north past the Tower of Ilgalar. As it curves to the west, turn north to find a small cave at [67.6, 28.7]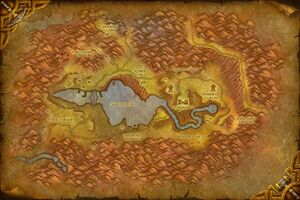 where Fangore awaits.
Progression
Optional breadcrumb from: NPCs or Hero's Call Boards.
Patch changes
External links