For the location, see The Deadmines.
The Deadmines
Publisher(s)
Cryptozoic Entertainment
Type
Dungeon
Total cards
46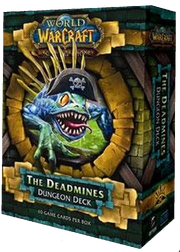 Set details
Card totals
Total Cards: 46
46 Numbered Cards

42 Commons
0 Uncommons
4 Rares
0 Epics
This set contains one 43 cards based on Scarlet Monastery.
Numbering
The numbering is based on a priority of:
Dungeon Hero

Neutral

Dungeon Allies

Neutral

Dungeon Ablities

Neutral

Equipment

Item
Weapons

Achievement

Neutral
External links

WoWCards
 The Deadmines
Standard Sets

Heroes of Azeroth Block
March of the Legion Block
Drums of War Block
Scourgewar Block
Worldbreaker Block
Aftermath Block
Timewalkers Block

Dungeon & Raid Decks
Preconstructed Decks

Class Starters - Retail

2011 Class Starters - Spring

2011 Class Starters - Fall

2013 Class Starters - Spring

Collector's Sets
Promos
Treasures

Caverns of Time Treasure

Dungeon Decks 2011 Treasure

Misc.