The subject of this article was removed from World of Warcraft in patch 4.0.3a.

This includes items and quests that can no longer be obtained or are now deprecated.
The in-game information in this article is kept purely for historical purposes.
This is part of the main Blasted Lands quest chain, even though it involves going to Azshara.
Objectives
Speak wth Loramus Thalipedes in Azshara.
Description
The triad is protected by Razelikh.
In exchange for their servitude, Razelikh granted each of them nearly unlimted power within the Blasted Lands. The amulet pieces are each attuned to the lifeforce of their owner, granting them immortality. As long as they remain within the Blasted Lands, they cannot be slain, their life spands extended until the end of days.
There is one who may be able to assist you further, <name>. Travel to Azshara and find the demon hunter, Loramus Thalipedes. Search the islands.
Completion
I will help you. Although I do not think you fully understand what you are up against.
Details
Loramus Thalipedes is located on an island in the Bay of Storms. The coords are [60.8, 66.4]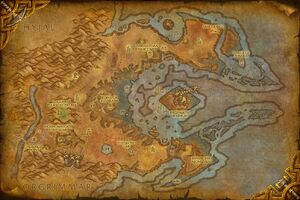 , and on the map it's the large island under the word "Storms" You need to have a conversation with him before you can hand in the quest.
Progression
This is part of the You Are Rakh'likh, Demon quest chain.
Horde precursors
Alliance precursors
 [57] 

Petty Squabbles

 [57] 

A Tale of Sorrow
Neutral quests
Patch changes
External links