Item Level

152

Sword
Speed 2.60
41 – 69 Damage
(21.2 damage per second)
+19 Agility
+28 Stamina
+13 Critical Strike
+12 Mastery
Equip: Chance on using a finishing move to cause Dreadblade's Fate, increasing the damage Pistol Shot and Saber Slash does to the target by 100% for 12 sec.
Classes: Rogue
"She saw herself commanding an impossibly large pirate fleet, one that could conquer the high seas and all the nations of Azeroth. Every ship that dared to challenge her burned, and every city gave up its treasures or was destroyed."
Source
Description
Shortly after the Cataclysm, Admiral Eliza Goreblade discovered a pair of ornately crafted cutlasses inside a recently unearthed wreck not far from Booty Bay. Though the origins of the blades are unclear, their power was not, as Eliza quickly made her name known pillaging countless ships across the Great Sea, none able to best her in combat. Rumors spread among pirates and sailors about the Dreadblades, the most common ones all agreeing that they are cursed, and that if they should ever stop being fed new victims, they'll claim their owner instead.[1]
Artifact traits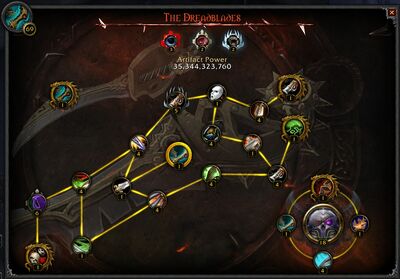 Base
Empowered
Appearances
Classic
This is the default appearance
Recover one of the Pillars of Creation
Recover  

[

Light's Heart

]


 [10-45] 

Light's Charge

Complete the first major Campaign effort with your order
  [10-45] 

Dark Secrets and Shady Deals
Upgraded: Promise of the Seascourge
Valorous: Flame's Kiss
War-torn: Scoundrel's Last Word
Challenging: Fencer's Reach
| | | | |
| --- | --- | --- | --- |
| | | | |
| Complete the Imp Mother Challenge questline | Defeat Heroic Kiljaeden after unlocking a Challenge artifact appearance | Win 10 rated battlegrounds after unlocking a Challenge artifact appearance | Defeat all Legion dungeon bosses after unlocking a challenge artifact appearance |
Hidden: Thunderfury, Hallowed Blade of the Windlord
Acquire  

[

Emanation of the Winds

]

Complete 30 Legion dungeons after unlocking a Hidden artifact appearance
Complete 200 World Quests after unlocking a Hidden artifact appearance
Kill 1,000 enemy players after unlocking a Hidden artifact appearance
Videos
History
References
Patch changes
External links