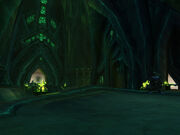 Not to be confused with Dreadsoul.
The Dreadsoul is a Legion ship in the Twisting Nether accessed through the Hijacked Portal captured by Tehd Shoemaker and Marius Felbane during

 [45RWQ] Where There is a Whip... and


 [45REWQ] How Do YOU Like It?!. Cazarian Skornbringers and Dreadsoul Wrathguards work aboard the ship, with Paal the Cazarian likely spearheading operations.
References